Dental Implants Toronto
Missing tooth? Discover new teeth and a perfect smile with Toronto dental implants

Have questions about dental implants? Schedule a free phone consultation with our Toronto dentist.

Our patients love us! See for yourself why people are choosing Atlas Dental for Toronto dental implants.

Dental Implant Emergency service
Broke a tooth and need a dental implant? Or has a dental implant chipped or loosened or is causing pain? Book an emergency dental appointment today
Your First Choice for Dental Implants in Toronto
An experienced dental implant dentist
Dr David Nguy is an Associate Fellow of the
American Academy of Implant Dentistry
. His passion for dental implant procedures has led him to pursue hundreds of hours in continuing education. Dr Nguy also provides cosmetic procedures such as porcelain veneers.

It is important to choose a dental implant dentist that is familiar with the many dental implant brands on the market such as Neodent, Straumann, Nobel, Biohorizons, Dentsply, and Hiossen. Sometimes, dental implants require additional attention, Atlas Dental works with all kinds of dental implants to provide you the most durable, cost-effective and best looking dental implants solution.
Dental Implant Procedures all in one convenient downtown Toronto location
No more beings bounced around from the dental office, to the oral surgeons clinic, and back. Dr Nguy is able to provide all aspects of the dental implant procedure in one convenient Toronto area location:
Tooth extraction
Bone grafts
Dental implant surgery
Gum tissue and other soft tissue surgical procedures
Digital dental implant crown design
Dentures supported by dental implants
Other cosmetic implant dental services
Neodent dental implants
We look at all the clinical evidence when selecting the best dental implants for our patients. Therefore, we place
Neodent
dental implants. Neodent is the 2nd largest dental implant company worldwide, has more than 25 years of performance, and has more than 250 studies proving its safety and efficacy. Neodent's progressive treatment concepts help create new smile experiences every day. Contact us to find out why patients choose Atlas Dental for dental implants Toronto!
What Are Dental Implants?
A Dental Implant is an artificial root made of titanium metal. It is inserted into the jawbone to replace the root of the natural tooth. A prosthetic tooth crown is then attached on top of the implant. In this way, the dental implant acts as a fixed anchor to hold the prosthetic tooth in place.
Dental implant surgery has dramatically changed the replacement of missing teeth. They look, feel, and function like natural teeth. Dental implants can replace one missing tooth or multiple missing teeth. Whatever your oral health circumstance may be, you can be rest assured that the dental implant procedure is a safe and reliable treatment option for tooth replacement. At Atlas dental, we use state of the art, highest quality implants to help patients achieve a new smile. Schedule a free consultation by phone with your Toronto dental implants dental team.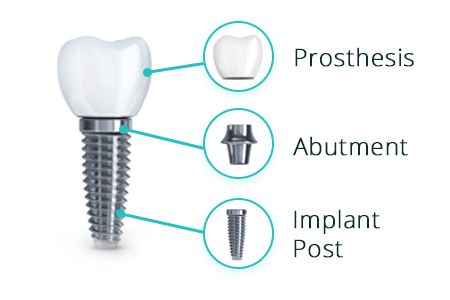 A Permanent solution for Natural Tooth Replacement
In the past, it used to be that if a patient suffered tooth loss from poor dental health, periodontal disease, or tooth decay, the patient's treatment options were limited to: no tooth replacement, dental bridges, or dentures.
All of these treatment options had their limitations.
No tooth replacement: Tooth loss is devastating. Choosing to not replace a natural tooth and leaving it as a space can lead to bone loss, which may require expensive bone grafting if you want dental implants in future. Moreover, adjacent teeth can drift and shift out of place, making your teeth crooked. Last but not least, having fewer natural teeth means the rest of the teeth in your mouth are doing more work when you eat. This can lead to problems like worn down and damaged teeth, and further tooth loss.
Dental Bridge: A dental bridge is a way to replace a missing tooth by using adjacent teeth as support for a false floating tooth. Patients choose dental bridges because as far as dental services go, a dental bridge is a fast treatment requiring two appointments only two weeks apart. No oral surgery required. They look like natural teeth, and are great for adjacent teeth that already need full coverage protection from dental crowns, such as teeth with root canals. Dental bridges may not cost as much as a dental implant, but there are downsides. Bridges do not prevent bone loss. They also make oral hygiene difficult and if any of the supporting teeth get tooth decay, one risks further tooth loss.
Denture: A denture is a removable replacement for missing teeth and surrounding tissues. Dentures can either be full or partial, meaning they can either replace all teeth on either the top or bottom gum line, or just a few that are missing. However, patients do not like how dentures are not fixed. Also, dentures do not prevent bone loss, and may in fact accelerate it.
Dental Implants: Dental implants are the perfect tooth replacement solution that overcomes all the limitations of dental bridges and dentures. Dental implants preserve bone, they make oral hygiene easier, they do not have to be taken in and out, and look, function and feel like a natural tooth! To learn more about dental implants Toronto, contact Atlas Dental your dental implant dental team!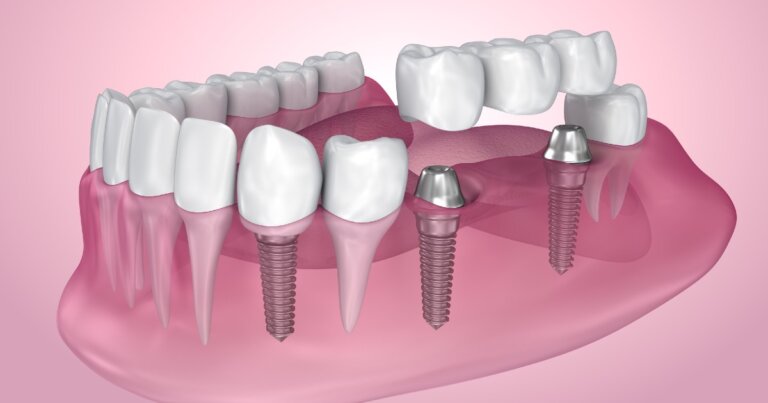 DENTAL IMPLANTS TORONTO FAQ'S
Atlas Dental makes contacting a Toronto Dental Implants Dentist easy!
Book a dental appointment online
With a few clicks of a button, you can schedule your visit at Atlas Dental. Use our online booking system to find an appointment time that suits you!
Fill out the form below and we will reply by the next business day.