Dental Veneers Toronto
Beautiful smiles every time with porcelain veneers by our trusted Toronto cosmetic dentist

Have questions about porcelain veneers? Schedule a free phone consultation with Dr David Nguy in Toronto.

Our patients love us! See for yourself why more and more people are choosing Atlas Dental for their new smiles.

Emergency Dental Veneer Repair
Chipped a porcelain veneer or has a porcelain veneer fallen off? Schedule an emergency dental veneer repair online.
Porcelain veneers are the perfect Cosmetic Dentistry solution
Porcelain veneers, also called dental veneers, is a cosmetic dental procedure that involves bonding a very thin layer of dental porcelain or dental composite on top of natural teeth to improve both color and shape. Porcelain veneer treatment is perfect for patients that want to achieve that perfect smile makeover without worrying about damaging too much their natural tooth enamel.
Dr David Nguy is your cosmetic dentist at Atlas Dental for porcelain veneer treatment. Worried about uneven teeth, crooked teeth, discolored teeth or gaps between teeth? We can help you achieve a brand new smile with porcelain veneer procedures. Porcelain veneers will bring newfound self esteem and joy in life.
Contact us to find out why patients choose Atlas Dental for cosmetic dentistry.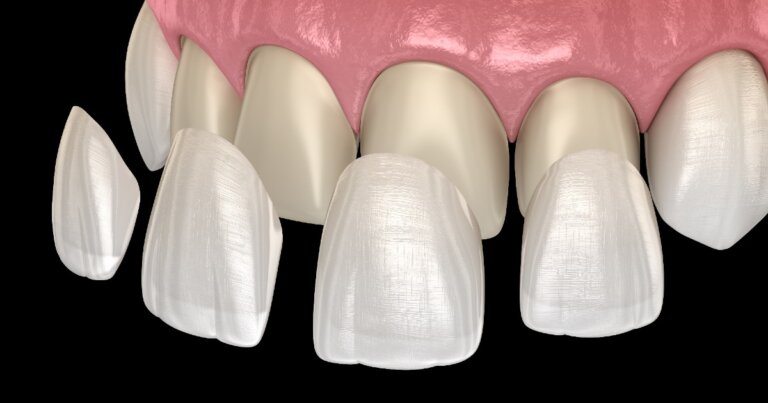 Should I choose composite veneer or porcelain veneer material?
Should I get composite veneers or porcelain veneers? Patients often wonder what is the difference between composite veneers and porcelain veneers,and which dental treatment is right for their smile makeover.
Dental composite veneers, also called composite resin veneers, involve the use of dental composite material. This is the same dental fillings material that dentists use to fix tooth cavities. The composite veneer procedure is best in situations where patients want to correct one or two teeth by making it match the appearance of the rest of their natural teeth. This dental treatment is done in one appointment and at relatively low cost. Composite veneers can be applied in a very thin layer without damaging much tooth structure.
Porcelain veneers, on the other hand, is a more comprehensive cosmetic dentistry dental procedure when a patient wants to correct the appearance of the entire mouth for a completely new smile. Porcelain veneers use dental lab ceramic materials to custom fabricate very thin enamel colored shells. These ceramic shells are bonded onto the outer surface of your natural teeth using special light curing. Not only are porcelain veneers more stain-resistant and durable, they help produce a more beautiful smile. Porcelain veneer placement is done in two visits, sometimes up to four visits. Temporary veneers are often required between appointments.
Am I a good candidate for porcelain veneers?
There are many reasons why a patient would want dental veneers. Uneven teeth, crooked teeth, discolored teeth, or gaps between teeth, just to name a few reasons. Dr David Nguy uses tooth colored materials to get the perfect match for your smile makeover.
Before you jump into getting a smile makeover with porcelain veneers, it is important to have your cosmetic dentist Dr David Nguy check your mouth to take dental x-rays and make sure you do not have any tooth cavities or infection of the gums. You can schedule a New Patient Examination at Atlas dental in Toronto using this link.
Good oral hygiene is imperative. Another thing you want to do before getting a smile makeover is a Dental Cleaning. You can schedule a tooth cleaning at Atlas dental in Toronto using this link.
How much do Dental Veneers cost in Toronto?
If you ever asked how much do dental veneers cost, you are not alone. 
Composite veneers can cost $300-500 per tooth.
Porcelain veneers can cost $1000-1500 per tooth.
Costs can vary depending on where you live, the cosmetic dentists office you choose, whether you have dental insurance coverage, and the number of teeth requiring veneers. To get a custom quote from Dr David Nguy in Toronto, feel free to schedule a complimentary phone consultation on dental veneers.
PORCELAIN VENEERS TORONTO FAQ'S
Atlas Dental makes contacting a Toronto Dentist easy!
We offer free phone consultations and second opinions on how Dr David Nguy can help you improve your smile with porcelain veneers or other cosmetic dentistry procedures. Schedule a free phone consultation with our Dr David Nguy or send us a message below.
Book a dental appointment online
With a few clicks of a button, you can schedule your visit at Atlas Dental. Use our online booking system to find an appointment time that suits you!
Need to talk? Call us or schedule your complimentary phone consultation with our Dr David Nguy in Toronto. If you are having a dental emergency, our cosmetic dentist Dr David Nguy is available from Monday-Sunday from 7:30am-11:59pm for emergency phone consultations.
Fill out the form below and we will reply by the next business day.