Dentures Toronto
Our clinic uses the latest advances in denture technology to ensure superior results

Have questions about dentures? Schedule a free phone consultation with our Toronto dentist.

Our patients love us! See for yourself why more and more people are choosing Atlas Dental for dentures.

Book a denture appointment online
We provide a custom tailored, seamless process in helping you replace missing teeth with beautiful, life-like dentures
If you are missing teeth and do not know where to start in looking for how much dentures cost, you are not alone. At Atlas Dental, we provide complete options, include partial dentures, complete dentures and implant supported dentures at very affordable prices. Read more below about how much dentures cost. Contact us for more information about your denture options in Toronto.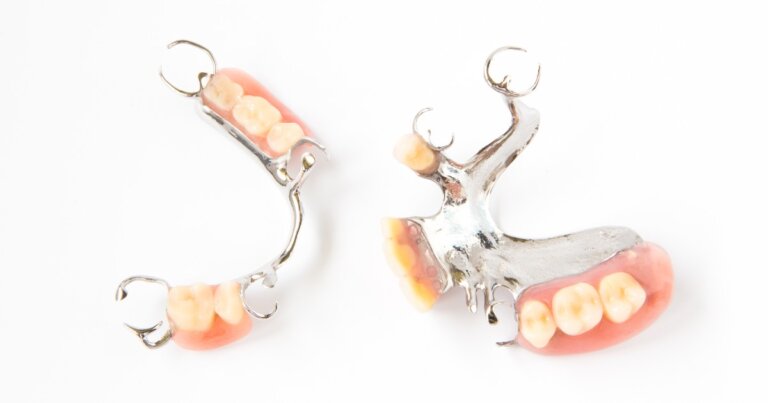 How much do dentures cost?
The cost of your denture will largely depend on the type of denture it is. Here are some price ranges you can expect based on the Ontario Dental Association Fee Guide:
Complete denture: $475-1662 + Lab Fee
Partial Acrylic denture: $393-782 + Lab Fee
Cast Partial Denture: 1164-1585 + Lab Fee
Implant Supported Denture: 1357-1662 + Lab Fee
A number of factors will affect how much dentures cost to make, including:
Where you live
Upper or lower denture
Denture design
Denture material
Number of dental appointments required
Qualification of the dentist
Dental laboratory fees
Whether you have dental insurance
Where you live cost factor
Each geographical region uses a different fee guide.
Where you live will have an impact on the cost of dentures. This is because each region has its own rules that can make dentistry safer, but may be more costly to the patient. Most regions have dental associations that issue an annual suggested fee guide for dental services. For example, in Ontario, the Ontario Dental Association issues their suggested fee guide for practicing dentists. This Fee Guide is suggested, which means that dentists can go above or below the suggested fee. However, dentists will normally follow the recommended fee for basic services (examinations, x-rays, tooth removals) to ensure fair and competitive treatment prices.
At Atlas Dental, dentures are a basic service. Therefore, we keep with the suggested Ontario fee guide for dentures.
Upper or lower denture
Lower dentures are slightly more expensive than upper dentures.
This is because lower dentures are more difficult to make. The tongue makes denture fabrication more difficult. Moreover, there are looser tissue structures in the bottom jaw that makes it more challenging to fabricate a denture.
Denture design cost factor
The more complex the denture design, the more expensive it will be.
Depending on your specific denture needs, the design of your denture can get very complex. Therefore, it can get very expensive too. For example, partial dentures may require customized cast frameworks, metal clasps, rests, bars, and reinforcing metal mesh. Implant supported dentures come in many designs features, including metal bars, locators, and solid zirconia. The best person to tell you what features your denture needs is your dentist.
Denture material cost factor
The more premium the denture material, the more expensive it will be.
There are tons of denture materials to choose from and all our dentures are made to customized to meet your specific needs. Your dentist can instruct the dental lab to use more premium denture materials that will make your denture more durable, comfortable, and aesthetically pleasing. 
Number of dental appointments required
The more time it takes to make the denture, the more expensive it will be.
No two dentures are the same. More complex denture designs will require multiple appointments. Therefore, more time means more cost. The dental lab usually needs 1 week between appointments to make changes in time for the next appointment.
Here is a general idea of the number of appointments needed for the following types of dentures:
Complete acrylic dentures: 4-5 appointments
Partial acrylic dentures: 2-4 appointments
Partial cast dentures: 3-4 appointments
Implant overdentures: 4-5 appointments
Qualification of the dentist
A denture specialist (also known as a prosthodontist) will charge more than a general dentist.
Due to the additional schooling and training that prosthodontists go through to achieve their specialty status, treatment with them usually costs more. In Ontario, prosthodontists use a different fee guide than general dentists. Talk to your dentist to find out if a referral is necessary for your case.
Dental laboratory fees
Each dental lab charges their own fees for dental lab work.
Your dentist is responsible for taking chairside measurements of your denture, and for making any adjustments necessary to ensure a comfortable fit and beautiful appearance. The dental laboratory is responsible for the major changes in your denture and producing the final product. Each dental lab is independently owned and each has their specialties in the type of dental appliances they make. The cost that the dental lab charges for making your denture is the "Dental Laboratory Fee" (Lab Fee). This dental lab fee is a flow-through cost that your dentist passes along to you.
Whether you have dental insurance
Having dental insurance will help cover a part, if not all, of the cost of your treatment.
Dental examinations, x-rays, and tooth removals are basic services. Therefore, dental insurance will almost always cover them. However, a denture is a major service according to many dental insurance companies and may only get partial coverage. The amount of insurance coverage will vary from plan to plan, so find out from your insurance carrier how much you are eligible for before starting your denture treatment. Your dentist should be able to help you to send insurance pre-determinations.
We know that affordability matters! At Atlas Dental, we work with you to determine the best financial options for you. Ask us about dental insurance, health spending accounts and payment plan options!
Atlas Dental makes contacting a Toronto Dentist easy!
Book a dental appointment online
With a few clicks of a button, you can schedule your visit at Atlas Dental. Use our online booking system to find an appointment time that suits you!
Fill out the form below and we will reply by the next business day.