MINIMALLY INVASIVE TUNNEL GUM GRAFT SURGERY TORONTO
Our cosmetic dentist uses minimally invasive tunnel gum grafting to reverse gum recession

Have questions about minimally invasive tunnel gum grafts? Schedule a free phone consultation with our Toronto dentist.

See for yourself why more and more people are choosing Atlas Dental for minimally invasive tunnel gum grafts.

Book In-Person Consultation
Want to know if you are a candidate for minimally invasive tunnel gum grafting? Book an in-person consultation online ($50 exam fee)
What are Gum Grafts?
Aggressive brushing can cause gum recession to healthy gum tissue, a condition where the you expose the root surface of the tooth. Not only does exposed tooth root surface not look nice, you may also experience tooth sensitivity to hot foods and cold foods, or worse, tooth loss.
A Gum Graft is a minor surgical procedure where the gum recession on exposed root surface is reversed. There are a number of gum graft surgery techniques, such as Free gingival graft, Connective tissue graft, Lateral pedicle graft, and the Minimally invasive tunnel graft technique.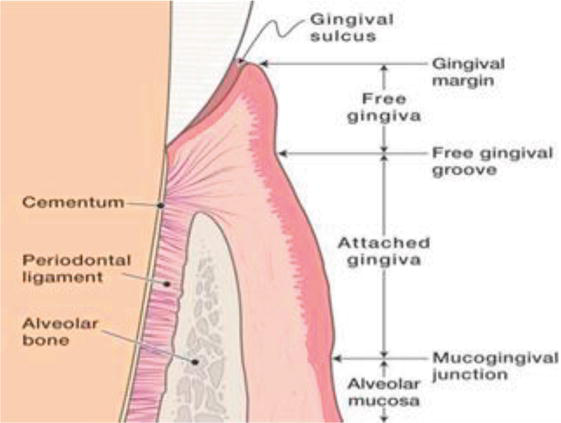 When it comes to gum recession, what we want to is surgically correct the location and width of Attached Gingiva, the thick, firm collar of keratinized epithelium and connective tissue around the neck of each tooth. It is this Attached Gingiva that prevents gum recession. It extends from the the free gingival groove to the mucogingival junction.
When gum recession happens, the attached gingiva migrates apically (lower, towards the root tip), or may be destroyed altogether. Patients often often seek the help of cosmetic dentists and gum specialists to provide medical advice on how to fix their receding and thin gums.
Understanding the different types of gum grafts
Free gingival graft
The purpose of a free gingival graft is to reconstruct lose attached gingiva tissue over the exposed root surface. The gum graft for this procedure is a combination of keratinized epithelium and dense connective tissue often taken from the roof of the mouth.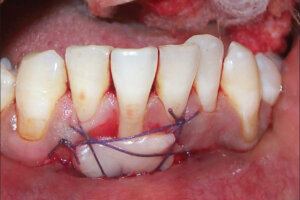 Connective tissue graft
Also known as subepithelial connective tissue grafts, this type of gum graft surgery is very similar to the Free Gingival Graft in that it also requires harvesting graft tissue from the roof of the mouth. However, only dense connective tissue, not keratinized epithelium, is taken from the roof of of the mouth.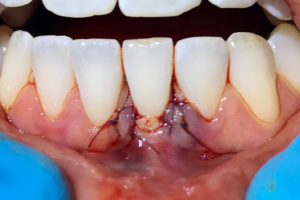 Lateral pedicle flap graft
The Lateral pedicle flap graft (rotational gum tissue graft) is a grafting procedure that uses nearby healthy gum tissue instead of tissue from the roof of your mouth, freeing a wedge of keratinized tissue and shifting it sideways to cover the area of gum recession.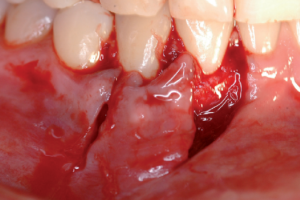 Minimally invasive tunnel graft
The minimally invasive tunnel graft is the final type of gum graft surgery. Donor tissue for this gum tissue graft is not taken from the roof of your mouth (as in a free gingival graft or a connective tissue graft), or from healthy tissue gum next to the receding gums (like in rotational flap graft); but from commercially available, medically safe donor tissue from a tissue bank, such as Alloderm. It is an alternative to traditional gum graft techniques that is quick, comfortable, and gets great gum tissue graft results.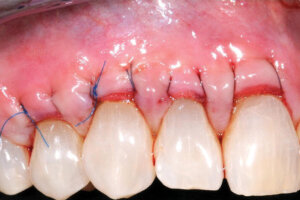 Advantages of the minimally invasive tunnel graft technique
Minimally invasive gum surgery, no incisions are made on your gum tissue and a secondary graft harvesting surgery from the roof of your mouth is not required.
Minimal pain, enhanced healing ability
Beautiful gum graft result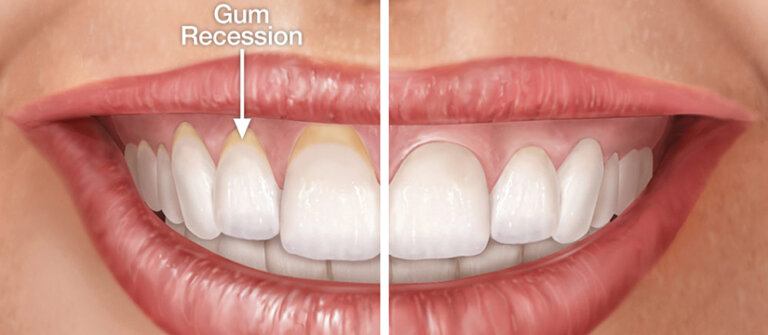 Am I a candidate for minimally invasive Tunnel graft surgery?
There are a number of factors that your cosmetic dentist in Toronto will assess to determine if you are a good candidate for minimally invasive tunnel gum grafting.
Patient selection criteria:
Must be medically fit for minor oral periodontal surgery procedures, no serious illnesses or comorbidity
Not a smoker
Must be able to follow gum grafting post operative instructions
Intra-oral selection criteria
Healthy gums, no periodontal disease
Good oral hygiene
Speak to your cosmetic dentist or gum specialist to determine if you are a good candidate for minimally invasive tunnel gum grafting.
Miller's gingival recession classification system and its significance to gum tissue healing
In Class I and Class II recession, there is no loss of interdental bone or soft tissue (the gum and bone tissue that forms a triangular wedge filling the space between your teeth). The difference between these two classes is the presence or absence of attached gingiva. Miller Class I has keratinized epithelium. Miller Class II does not have keratinized epithelium. In Miller Class I and II gum recession, complete root coverage is expected using minimally invasive tunnel gum grafting.
Class III recession was originally described as interdental loss of bone and/or soft tissue or extrusion of the tooth. Only partial root coverage could be attained. In Class IV recession, regardless of severity of recession, root coverage cannot be achieved because there is no papilla. Miller Class II and IV cases are not good candidates for minimally invasive tunnel gum grafting.
In simple terms, having adequate papilla in the area adjacent to the gum graft site is important because that it indicates there is adequate blood supply to facilitate gum graft healing and prevent further gum recession.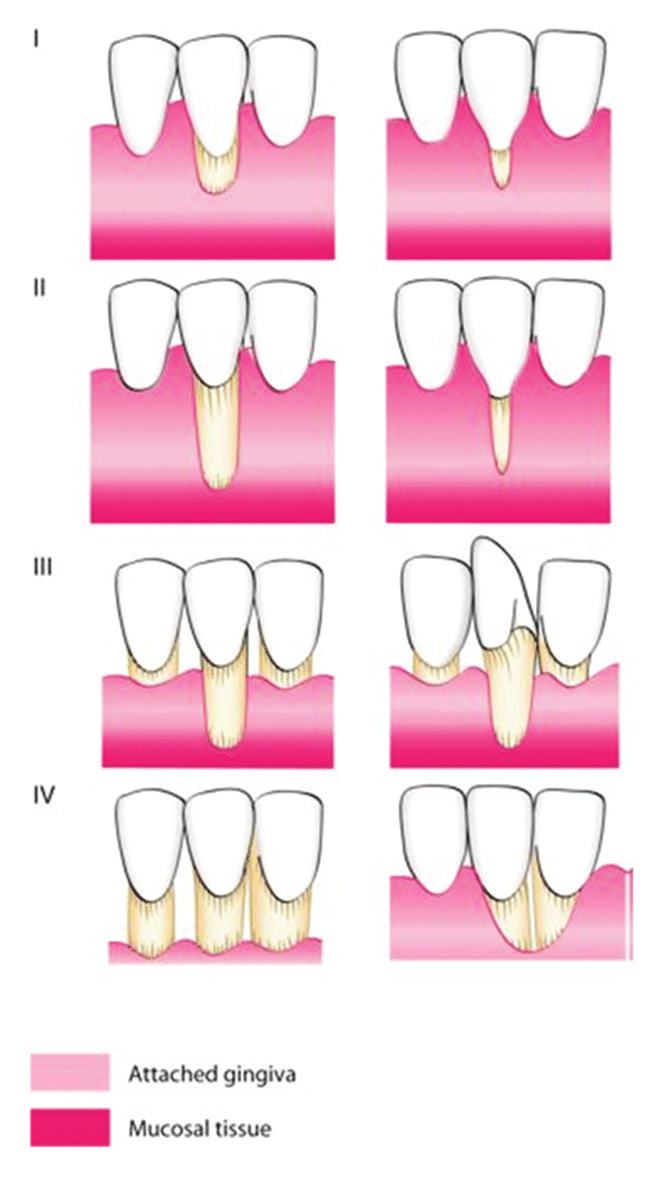 How the Minimally Invasive Tunnel Graft for Teeth and Dental Implants Works
Tunnel Gum Grafting is a multi-step procedure. Before gum graft surgery, the dentist reviews your medical history, does a thorough oral health exam to assess your gum health, ensuring you are free of gum disease, and to determine if you are a good candidate for gum graft surgery.
During dental surgery, the dentist administers local anesthesia to the gum graft site. You will also be started on antibiotics and given an antibacterial mouthwash. The dentist then cleans the exposed root surfaces with hygiene scalers and a citric acid solution , removing any plaque buildup. Using microsurgical instruments, small incisions and light lifting pressure is used to gently lift the gum tissue off the tooth and bone and to create a small "tunnel" or "pocket" into which a the gum graft will be placed. The gum graft is inserted into the tunnel and sutured into place.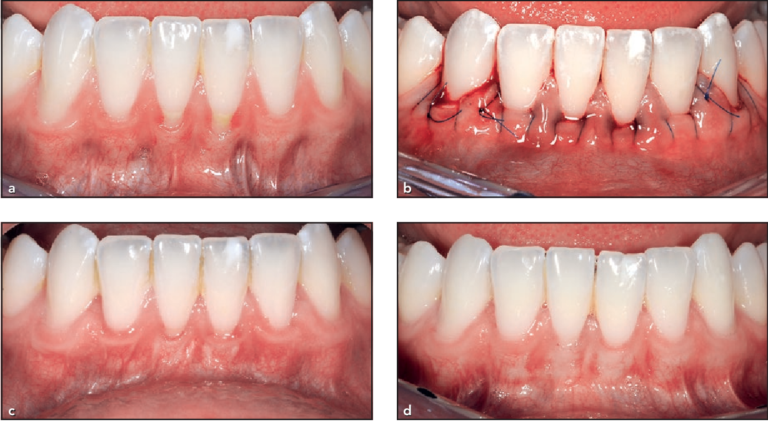 How much does a Gum Graft cost?
Your gum tissue graft cost can vary widely from one dental office to another. At Atlas Dental, we charge $1000 per tooth site. If you have dental insurance, it may cover some if not all of your expense. Please inquiry with us to see how much you are covered.
GUM GRAFTING TORONTO FAQ's
Atlas Dental makes contacting a Toronto Dentist easy!
Book a dental appointment online
With a few clicks of a button, you can schedule your visit at Atlas Dental. Use our online booking system to find an appointment time that suits you!
Fill out the form below and we will reply by the next business day.