Dental Night guards Toronto
Our clinic uses the latest advances in 3D scanning and 3D printing technology to make comfortable and durable dental night guards

Have questions about dental guards? Schedule a free phone consultation with our Toronto dentist

Our patients love our mouth guards! See why people are choosing Atlas Dental for their custom made mouth guard appliance

BOOK A CUSTOM MOUTHGUARD APPOINTMENT ONLINE
We use the latest in 3D scanning and 3D printing technology to make you the right mouth guard
Are you teeth grinding or teeth clenching? Custom-fitted night guard treatment is provided by Dr. David Nguy at Atlas Dental in Toronto for patients looking to protect their teeth. Read more below to learn about the cost of custom-fitted night guards below. Contact us for more information.
What is a dental night guard?
A dental night guard, also known as a mouth guard, is a custom designed protective plastic appliance to protect your teeth at night when you are grinding and clenching unconsciously.
Night guards can also serve as mouth guards to be worn when playing sports to prevent chipped teeth or broken teeth. They can even be worn throughout the day if you are teeth grinding and clenching from stress.
The best mouth guard is a custom fitted mouthguard and can be made by your general dentist. They are usually worn over your upper teeth, but can also be made to fit over your lower teeth. Mouth guards made by your dentist are far more comfortable and protective than non-customized, boil-and-bite guard devices purchased over the counter at local department stores, pharmacies or sporting goods stores.
At Atlas Dental, we make comfortable, soft night guard appliances using the latest 3D scanning and 3D printing technology. The best way to prevent teeth grinding damage and jaw soreness is to schedule an appointment for a custom fitting.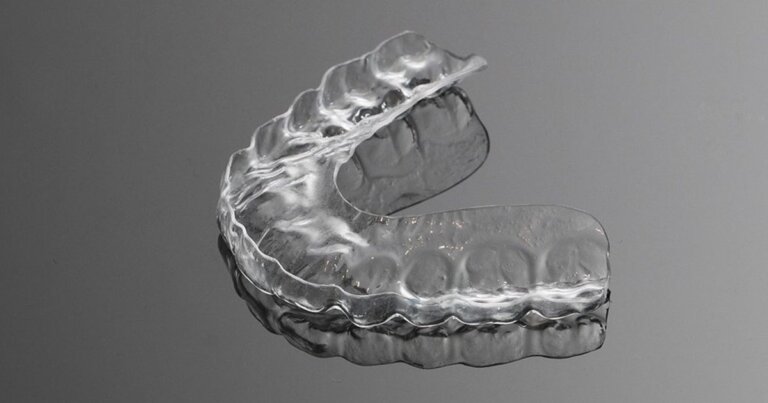 How much do mouth guards cost?
A common question is how much a custom dental night guard costs. For a typical mouth guard, you can expect to pay anywhere from $427-527 in Toronto.
Having dental insurance will help cover a part, if not all, of the cost of your mouth guard treatment.
A dental night guard is a basic service. Therefore, dental insurance will almost always cover mouth guards. The amount of insurance coverage will vary from plan to plan, so find out from your private dental insurance how much you are eligible for before starting your night guard treatment. Your dentist should be able to help you to send insurance pre-determinations to assess your mouth guard insurance eligibility.
We know that affordability matters! At Atlas Dental, we work with you to determine the best financial options for your dental mouth guard treatment. Ask us about dental insurance, health spending accounts and payment plan options!
If you have any further questions about the cost of a dental night guard in Toronto, please contact us.
What causing teeth grinding?
Sleep bruxism (teeth grinding) is a common oral health condition when you are unknowingly teeth grinding and clenching at night. The root cause behind sleep bruxism is unclear, but stress and anxiety is often the #1 factor. Many patients report other factors include certain medications, alcohol consumption, smoking, caffeine, sleep apnea, snoring, an abnormal bite and crooked teeth. 
Patients can experience light grinding, moderate grinding or severe bruxism. The severity of the teeth grinding and clenching habit will dictate the severity of the sleep bruxism symptoms. If unaddressed, sleep bruxism can result in:
Jaw pain
Tooth sensitivity in your front teeth/back teeth
Stiff jaw muscles
Tooth damage, including abraded tooth enamel, chipped or cracked teeth
Tooth loss
Teeth shift
Dull headaches
Dislocation of the jaw
Locking of the jaw
A popping or clicking in the temporomandibular joint (TMJ)
Tongue indentations
Damage to the inside of the cheek
Poor sleep quality and sleep disorder
Limited mouth opening
By seeing your dentist about possible teeth grinding, they can identify further signs of bruxism. Without intervention, teeth grinding can cause significant damage to your oral health. While many treatment options exist, we believe the best solution is a custom made mouth guard appliance.
How do I stop sleep bruxism?
A soft custom fitted mouth will protect your teeth from the damage of severe grinding, but it will not necessarily stop the teeth grinding habit. The mouth guard might deter you subconsciously from teeth grinding and clenching, but this is not guaranteed.
Here are some things you can do to prevent or lessen your teeth grinding or clenching habit:
Limit your consumption of sugary and acidic foods and drinks that also cause erosion and decay of your teeth
Use relaxation techniques before you go to bed, such as listening to gentle music during your work day, mindfulness exercises, meditation or yoga
Speak with your doctor about your stress and anxiety and get medical advice for ways to reduce it. 
Caffeine can also cause you to grind your teeth. Avoid or cut back on foods that contain caffeine such as colas, chocolate, and coffee.
Avoid alcohol. Grinding tends to intensify after alcohol consumption
Eliminate other bad habits that cause unnecessary wear to your teeth, such as chewing on pencils, ice, or chewing gum.
Be conscientious of the grinding or clenching habit. If you notice that you do it during the day, position the tip of your tongue between your teeth. This practice trains your jaw muscles to relax.
Wear braces to straighten your teeth. Teeth that are out of alignment are what dentists call malocclusions, and can contribute to teeth grinding. This can be corrected by orthodontics, such as traditional braces or Invisalign clear aligners.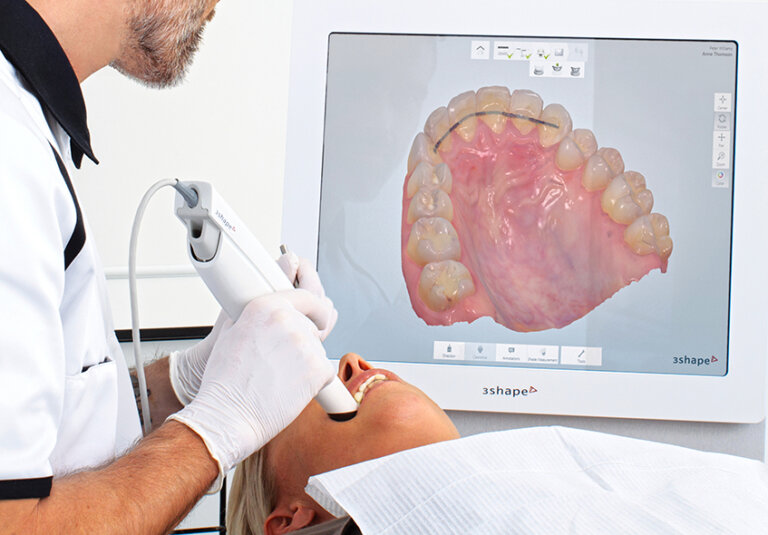 What is the procedure for a dental mouth guard?
The process for getting the best mouth guard is quick, comfortable, and requires only two appointments. At Atlas Dental, we use the latest 3D scanning and 3D printing technology.
In the first appointment, your dentist takes a painless, comfortable 3D scan of your mouth. This part of the dental mouth guard process takes just a few minutes. No more sticky dental alginate impressions that makes you feel like vomitting!
In between dental appointments, your dentist works behind the scenes to make your dental night guard. Based on computer-generated 3D models of your upper teeth and lower teeth, a 3D model of your mouth guard is designed. The design is then fabricated using a 3D printer and special 3D printer dental resin. KeySplint Soft is fully biocompatible, and is in compliance with US Food and Drug Administration (FDA) medical device regulations and standards.  The dentist then trims and polishes your mouth guard.
If you have severe bruxism and require a stiffer material, an acrylic hard night guard can be made at your request.
In the second appointment, you will try in the custom mouth guard. The dentist will assess for fit and comfort. If necessary, adjustments can be made.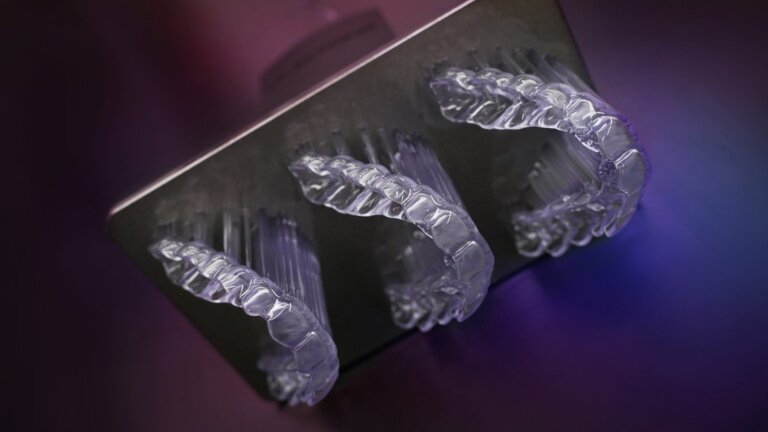 Dental Nightguard Toronto FAQ's
Atlas Dental makes contacting a Toronto Dentist easy!
Book a dental appointment online
With a few clicks of a button, you can schedule your visit at Atlas Dental. Use our online booking system to find an appointment time that suits you!
Fill out the form below and we will reply by the next business day.