This Toronto Dental Clinic provides Free Terracycle recycling for oral care products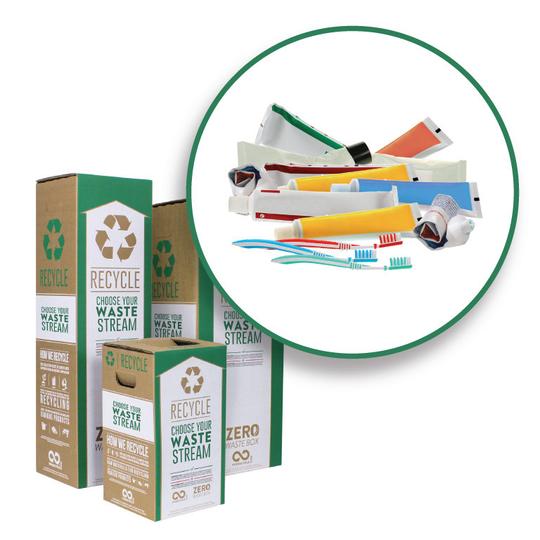 Bring your oral health care waste to Atlas Dental
Our Toronto dental clinic cares about our impact on the environment. Therefore, one of the things we are doing is to offer a FREE recycling program for your used oral health care products.
You do not have to be a regular patient of ours to take advantage of this program. Everyone is welcome to  bring their used toothpaste tubes, toothbrushes, floss containers, and all related packaging, for recycling. Please place these products  in our Terracycle Zero Waste Box.
What is the Terracycle Zero Waste Box?
TerraCycle® recycles things that are traditionally "non-recyclable." They partner with small and large businesses and organizations to divert tonnes of waste from landfills and incinerators.
At Atlas Dental, we offer an environmentally-friendly solution to Oral Care Waste and packaging: the Terracycle Zero Waste Box. Bring any brand toothpaste tubes and caps, toothbrushes, toothbrush and toothpaste tube outer packaging and floss containers for recycling.
We accept these oral care waste products
Any brand toothpaste tubes and caps
Toothbrushes
Toothbrush and toothpaste tube outer packaging
Floss containers
All other dental hygiene aids
We DO NOT accept these products
Organics
Broken glass
Bio-medical waste
Soiled diapers
Expired medication
Pesticides
Paint
Pressurized canisters
PPE such as facemasks or gloves
Medical sharps
What happens to your oral care waste and packaging?
A lot of oral health care products are difficult to recycle.  Therefore, municipal recycling facilities will not accept this kind of waste. Instead, the plastic waste gets sent to the landfill, where it may take thousands of years to biodegrade. By bringing your oral health care waste to Atlas Dental's free recycling program, you are making a difference to the health of our planet.
When you bring your used oral health care products to Atlas Dental, please place them in our Terracycle Zero Waste Box. At Terracycle, they mechanically and hand separate the waste into wood fibers, plastics and other materials. Afterwards, the paper fibers are turned into new paper products, or composted if recycling is not possible. The plastics are turned into new plastic resins. 
How do I get to Atlas Dental?
Address
123 Edward St Suite 1107 (11th floor), Toronto, Ontario M5G 1E2
Parking
On-street Green P parking is available. The nearest parking garage is the SP+ parking garage at 180 Dundas Street West, accessible from Centre Street.
Public Transit TTC
The office is very accessible by TTC public transit; we are a 2 minute walk from St Patrick Subway Station.
Accessibility
The location is wheelchair accessible via the elevator to the 11th floor.
Tell your friends and family about Atlas Dental's recycling program!
Our environmentally friendly dental clinic is for all to use. Therefore, you do not have to be a patient of Atlas Dental to take advantage of our recycling program. 
Please share this recycling program with our friends and family. Together, we will work together towards a greener future. 
Atlas Dental makes contacting a Toronto Dentist easy!
Book a dental appointment online
With a few clicks of a button, you can schedule your visit at Atlas Dental. Use our online booking system to find an appointment time that suits you!
Fill out the form below and we will reply by the next business day.